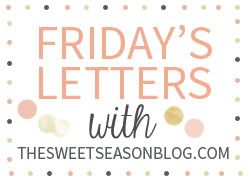 Wow, it's that time again! Linking up with Ashley and her Friday's Letters. Head on over and read all of the other awesome Friday's letters.
Dear Isaiah:
I've missed you babe. We've been so busy this week, I feel like we haven't seen each other as much this week, oh wait, we haven't. ;) Good luck on your performances tonight, tomorrow and Sunday. I'm proud of you!
Dear Mom & Mariel:
Thank you for coming to spend time with me and the boys this week. It went by too fast. I love and miss you guys...a lot!
Dear Sunday:
Please drag on and go as slow as possible. I have some much needed Zzz's to catch up.
Dear Friends:
New and old, I'm glad you've stopped by my neck of the woods. Hope you're here to stay. I promise it'll be worth it!
Have a great weekend everyone!