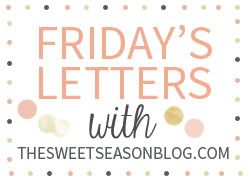 I'm linking up with
Ashley
again.
Dear Detox:
Although I didn't say nice things about you, you have been good to me. I'm down 6 lbs so thank you!
Dear boys:
You are much too energetic when 9 PM and 10 PM rolls around. I'll need you guys to knock it off and simmer down in the late hours! :)
Dear water:
It's you and me today. I need a gallon of you a day so looks like we'll be BFF for the rest of my life!
Dear sore legs:
Thanks for not giving out on me this week. I'm feeling the burn big time!
Dear Friends and Family:
Thank you for all you do for me. Your support and love is amazing!