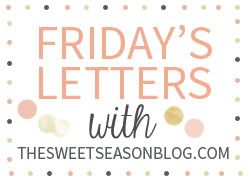 Linking up with this
sweet
lady for Friday's Letters.
Dear Newport Beach Temple:
You were so good to me yesterday. I love the feeling I get when I step foot on your grounds! It's been a while since I've done a session and boy oh boy did it do some good for me!
Dear Jaw:
You're not supposed to give me any more trouble. You've been sore and I don't want to end up looking like
this again.
Dear Water:
Thanks for flushing my body out. 7 1/2 bottles of these bad boys
and I reach my gallon of you a day! I have to trick my mind and break it down once in a while.
Dear Pilar: You are amazing and such an inspiration. Keep fighting and kick cancer's rear end! My thoughts and prayers are with you. I love you!!
I hope everyone is having a great day so far. This week has totally kicked my trash and I am EXHAUSTED. I usually never do but I felt like I overbooked myself this week but thank goodness it's Friday.
To all my new visitors, I welcome you and am glad you stopped by my neck of the woods. Hope you stay a while!
Cheers to the weekend everyone and Easter weekend at that!
What do you have planned for Easter weekend?