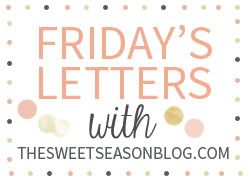 Dear Participants of my first giveaway:
Thank you for joining me in my first giveaway and I promise there will be more!! You guys rock!
Dear Jack:
I miss you already but I know you're SO excited to go to Newtah (Utah) with Nana and Papa this weekend! Have fun son, I love you!
Dear Kenny:
This weekend will be great! Also a much needed one on one time with you my baby!
Dear Bonnie:
You can never leave me by myself at work again. Yesterday was SO boring without you. What will I do in May and June when you're gone a WHOLE week?
Dear 10k at Seal Beach:
I'm getting nervous and excited to run circles around YOU!!
Dear Lanea:
Thank you for the much needed talk on Wednesday. I absolutely love you!
I hope you all have a great Friday and a wonderful weekend. I am planning a crazy intense hike tomorrow just because I've been so lackadaisical in my workouts this week. What are your plans for this weekend?