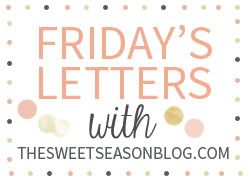 Linking up with
Ashley
for Friday Letters.
I was excited about the weekend and now I'm not.
I only have one letter and will make it brief because I'm not in the best mood.

Dear My Sweet Boys: Regardless of what ANYONE thinks or says, I love you boys more than life itself.
I love you with all that I have in me.
I've never loved anyone more than you three.
I never will.
At times I may not have patience, I yell and I am by no means perfect in any way.
It's frustrating to think that because of a simple slip up, someone could make me feel incompetent as a mother.
Yesterday was an off day.
I was tired, sore and ready to be done for the day but I realize I shouldn't act like that.
Not with you boys.
You are my world.
I hope you know and feel my love for you.
Being a parent is a hard job.
Being a parent that works full time outside of the home is a hard job for ME.
I forget when I come home, I still have an important job to do.
The most important job I could ever have in my life and I need to remember it never ends.
I need to remember that in these crucial moments, I need to stop being selfish.
Forgive me boys, for being short.
Forgive me if you have ever felt neglected.
That isn't the case and when I come home from a bad day, I need to remember that you boys come first.
I love you boys so much.
So, so much that I would never be able to express it in words but I do need to remember to express it in my actions as well.
Happy Friday everyone.
Hope your day is going well.